I don't have too many nice things to say about any of these recipes primarily because of the aforementioned nasty mouth, so I'll just post them with limited commentary.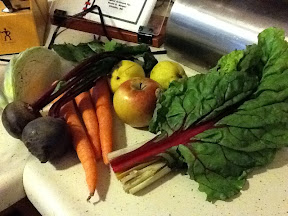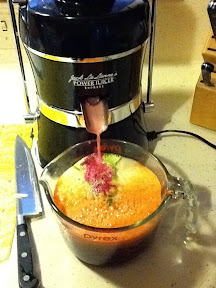 ABCs
2 Asian Pears
2 Apples (any)
2 Beets
2 Carrots
1 cup Cabbage
6 handfuls (3 cups) Chard
V28 (aka TruBlood)
3 large red Beets
2 medium Carrots
2 stalks Celery
4 Plum Tomatoes
4 cups Parsley, stems and leaves roughly chopped
1 Jalapeño, ribs and seeds removed
12 Red Radishes
Both the ABCs and V28 come from the juice recipes page at http://jointhereboot.com/reboot-program/recipes/juice-recipes/
Mean Green (the original from the film, FSND)
6 Kale Leaves
1 Cucumber
4 Celery Stalks
2 Green Apples
1/2 Lemon
1 piece of ginger
I found that one here http://myjuicecleanse.com/juicer-recipes/mean-green-juice-recipes/
Carrot Cake
4 large carrots
1/4 pineapple, cut into spears, no skin
1 apple
Coconut Water
Carrot cake spices (cardamom, cinnamon)sprinkle on top at the end
From the juicing recipes group on Facebook (you have to request membership to view) https://www.facebook.com/groups/132584946830099/
I've also adapted the carrot cake juice with 1/2 an orange... Yum-o!
The reboot programs you'll find on the reboot site aren't just juice programs, I found what I needed to know at the reboot expert blog http://jointhereboot.com/want-to-do-a-juice-only-reboot/
There are also several Facebook groups dedicated to juicing. You have to be a member to check them out. If you're interested look up Judy Finneran on facebook, she can add you to the groups and she's amazing. :)
Ok... Brain slowing to a halt... Gnite!