I know I exist on a roller coaster, and I'm willing to bet that I have pretty predictable patterns, but I've never been one to document my life well enough to keep tabs on myself. So I'm asking you now, dear readers... tell me what you see as time goes on. I've noticed already that this blog has taken me through at least one cycle starting at up, going down, and now picking back up again. Let's see what happens next!
While we are at it, let's make some juice! This is a delicious, hearty juice from the reboot site called gazpacho. I doubled the recipe in this case and it made over 1 quart.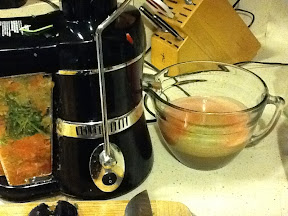 I experimented with peaches too. I started with a recipe from the reboot site expert blog that called for greens in this juice but once I started it looked so pretty I couldn't stand to mess with it. I did end up throwing in an orange and two carrots post-picture.
That's 4 peaches (pits removed), 1 red yam, 1 apple, 1/2 lemon, and like I said... Eventually an orange and 2 carrots.