Without any epiphany, which is unusual for me... I often wait for divine intervention, I made the decision to go back to juicing. I had a 2nd last supper that I won't tell you about because I really don't want to think about it and set straight to cleaning the growing produce collection in my refrigerator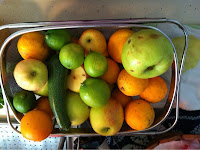 Apples from the "reject" bin at an apple farm in Solvang, limes from next door, more limes, valencia oranges, and a watermelon from spiderman's great-great grandma, and a zucchini from my very own momma.
Here's what I'm heading back into action with...
Mean green: 6-8 leaves kale, 1 handful spinach, 4 celery stalks, 2 green apples, 1 cucumber, 1 small lemon, and 1" of ginger. Yield: 24oz
Great Green Fruity Mix (adapted from the reboot site):
4 handfuls spinach, 2 leaves kale, 1 apple, 1 kiwi, 1 pear, 2-3cups grapes, 1 sm orange. Yield: 25oz
Watermelon Mojito: 2 cucumbers, 2 limes, handful of mint, whole lotta watermelon.
Does not look pretty mixed...but doesn't it here? Future adaptations... I would add more mint.
Happy juicing!